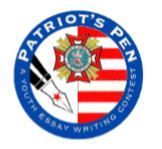 The Patriot's Pen contest is worldwide and provides 6th, 7th, and 8th grade students the opportunity to express their opinion on a patriotic theme and improve their writing skills while they compete for worthwhile awards and prizes. Award can be given at the Local, District, and Department levels. The Department winners compete for $55,000 in awards at the National level. Read the rules and eligibility requirements and download the 2020-21 entry form application.
The 2020-21 Patriot's Pen theme is: What is Patriotism to Me?
Voice of Democracy and Patriot's Pen Chairman's Manual
Patriot's Pen Rules and Eligibility
DPA-District V VOD-PP-Teacher 2020 Program Info Sheet
VFW Programs Donation Form 2020-2021 see note:
If you know that your Post will not have any entries, let's get the donations done now. In order to get credit please forward the receipt email you receive from VFW National to SVC Steve and Don Kelley DPA VOD/PP/TA Chairman's !!